About

---
Maddison Kitching is a Naarm/Melbourne-based artist. His work is concerned with the relationship between representations of landscape and Australian identity.

He works primarily through painting and collage, making use of familiar imagery and design motifs to challenge commercial depictions of the Australian landscape.

Living on unceded Wurundjeri and Boonwurung land.

Represented by Aster + Asha Gallery, Brisbane, Australia.

To view Maddison's illustration, mural painting and graphic scribing work click here.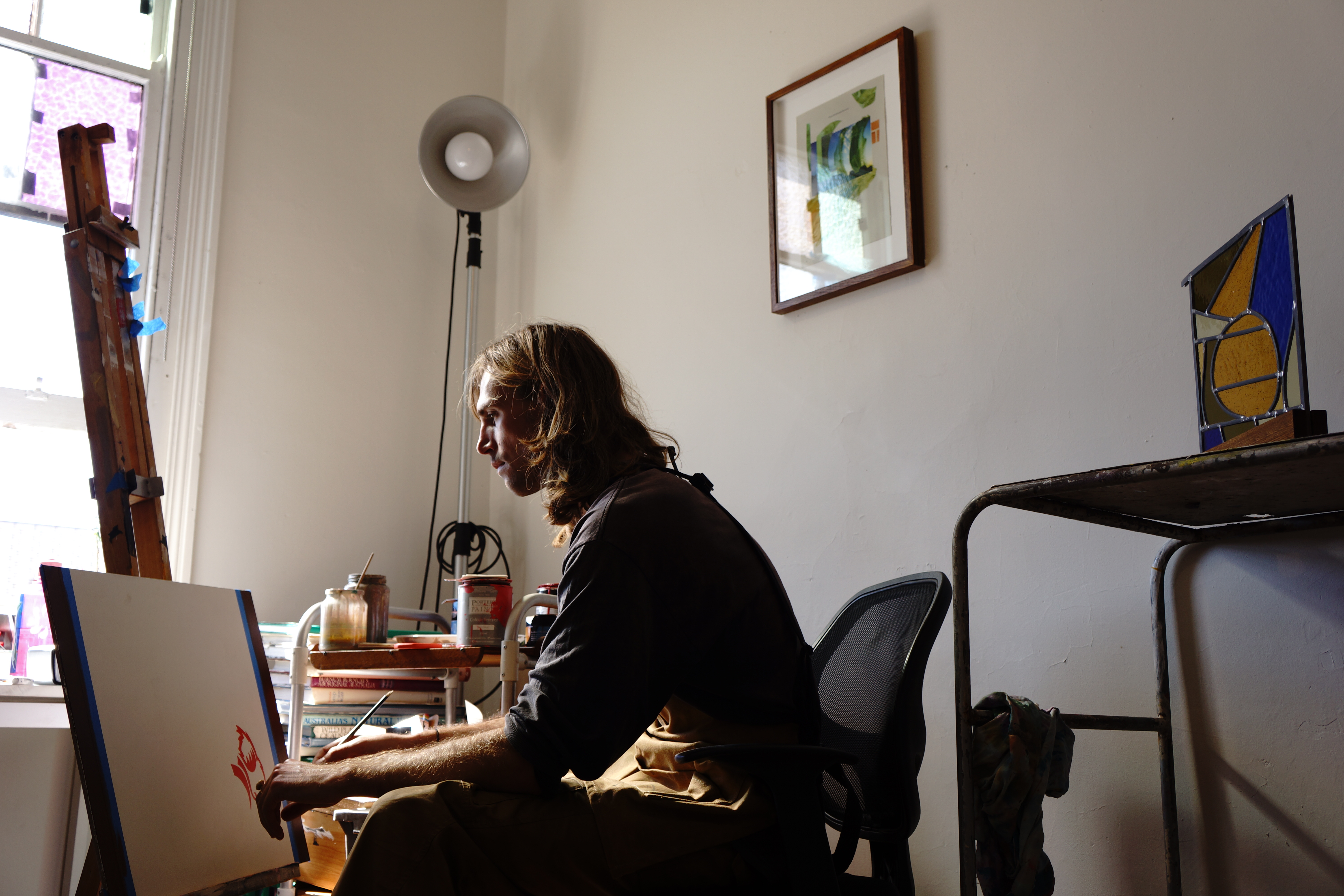 Selected projects:

2022:
– Soft power, Readings, 309 Lygon Street, Carlton, Victoria, Australia. 18th - 22nd May
– Here, there, everywhere, KINGS ARI, 69 Capel Street, West Melbourne, Victoria, Australia. 3rd - 26th February

2021:
– Papier-mâché, group exhibition (curated by Louise Klerks and Maddison Kitching) featuring Rachel Ang, Fergus Binns, Matilda Davis, Jason Hamilton, Brendan Huntley, Maddison Kitching, Alasdair McLuckie, Nabilah Nordin, The Ryan Sisters and Isadora Vaughan, Missing Persons, Level 4, Room 11-12, 37 Swanston St, Melbourne, Victoria, Australia. 11th - 26th June

2020:
– Blue Sky at Night, c3 Art Space, Abbotsford Convent, 1 St Heliers St, Abbotsford, Victoria. Australia.
8th April - 3rd May (cancelled due to COVID-19)
– Altered Zones, digital zine designed and edited by Tara Kenny and Sam Hains, New York, USA

2019:
– Under a clear blue sky (as part of Open Spaces Festival), Abbotsford Convent,
1 St Heliers St, Abbotsford, Victoria. Australia. 9th - 10th November
– I've been everywhere man, Stockroom Kyneton, 98 Piper Street, Kyneton, Victoria, Australia.
8th June - July 7th
– Lucky Country Escapes (as part of Showtime), Testing Grounds, 1 City Road, Southbank, Victoria, Australia.
1st February

2018:
– Lucky Country Escapes (as part of Critical Mass), Testing Grounds, 1 City Road, Southbank, Victoria, Australia. 12th September - 22nd September
– A partial view, Chapter House Lane, Chapter House Lane, Melbourne, Victoria, Australia.
18th January - 24th February

2017:
– Discover Gippsland!, Seventh Gallery, 155 Gertrude Street, Fitzroy, Victoria, Australia.
25th January - 10th February

2016:
– Out of Touch, Out of Place, Rubicon ARI, Level 1/309 Queensberry Street, North Melbourne, Victoria, Australia. 25th May - 11th June

2015:
– Invasion of the Mulberry Mansion, 5 Mulberry Street, Richmond, Victoria. 25th April - 9th May

2014:
– Daisylegs Opening: Fraser Island, Daisylegs Studio collaboration with Jamie Edward, 9 Carlton Street, Prahran, Victoria. 22nd August - 22nd September


---
Selected group projects:


– Mellow Thoughts, Aster + Asha Gallery, 1–2/53–55 Cronulla Ave, Mermaid Beach, Gold Coast, Queensland, Australia. 14th - 15th May, 2022

– Ecoluxx$ (co-curated with Rebecca McCauley and Aaron Claringbold) featuring Steven Rhall, Claire Robertson, Rebecca McCauley, Neika Lehman, Maddison Kitching and Aaron Claringbold, Kings ARI, 171 King Street, Melbourne, Victoria, Australia. 3rd November - 24th November, 2018

– Seven Year Itch, Chapter House Lane, Chapter House Lane, Melbourne, Victoria, Australia.
1st November - 31st December, 2018

– Variations (curated by Sophie Moshakis), Collins Place Gallery, 45 Collins Street, Melbourne. 10th - 18th August, 2018

– Turbulent Exposure, Junior Space, Collingwood. 5th October - 18th October, 2017

– Thongs, LON Gallery, Collingwood, Victoria. 14th June - 8th July, 2017

– April Group Show, James Makin Gallery, Collingwood, Victoria. 5th April - 29th April, 2017

– Twice Lucky (curated by Lara Odessa), N/A Space, Brunswick East, Victoria. 25th November, 2016

– All in One Space, Tiny Tailor Gallery, Chippendale, New South Wales. 7th July - 21st July, 2016

– At the Beginning, Tiny Tailor Gallery, Chippendale, New South Wales. 11th February - 11th March, 2016

– Freedom (curated by Ella Krivanek), Space Space Gallery, 1 Chome-8-9 Iwadominami Komae, Tokyo, Japan. 28th March - 11th April, 2015

– People and Place, Richmond Town Hall, 333 Bridge Road, Richmond, Victoria. 2nd April - 28th May, 2014

– Cookin' - House of Bricks Grand Retrospective Group Show, House of Bricks, 40 Budd Street, Collingwood. 25th April - 5th May, 2014


---
Text:

–
Freud in the Outback catalogue essay written by Amy rudder
–

A partial view

catalogue essay written by Andy Butler
–

Discover Freely

written by Rebecca McCauley
Media:


–

The Design Files

, 2018
–

Beyond The Opening

, 2018


Residencies:


– Casa Lu, Mexico City, Mexico, September 2022
– Creative Development Program, Testing Grounds, Southbank, December 2020
– Cowwarr Art Space, Cowwarr, Gippsland, Victoria, December 2018


Other:


– Corporate Koala instagram account